Twila Cassadore (San Carlos Apache Tribe) has been working with San Carlos Apache, White Mountain Apache, and Yavapi peoples for the past 25 years, addressing health and social issues. She works on a number of community and cultural preservation projects- reconnecting the local youths with their ancestors way of life and diet, she is also a professional caterer. Twila is the founder and face of the grassroots organization "Native Mothers Against Meth."
APACHE, United States
Twila Cassadore
The Teyuna are an indigenous group formed by the Arhuaco, Kankuamo, Kogi and Wiwa people of the Sierra Nevada of Santa Marta, in Colombia. They, until recently, lived in isolation high in the mountains, however, they received a message they had to come down and share their wisdom and work to help the Earth in places where it's being destroyed.

The spiritual leaders of these cultures are known as Mamos. A Mamo represents the beginning of knowledge, the maximum expression of wisdom, they are spiritual guides of the laws of the origins, believed to be destined from the moment of conception by the superior forces of the universe. As soon as born, a Mamo learns the secrets of nature, they are required to spend a large portion of their early life living in total isolation, even from their own community, elders will come and pass on their knowledge on different subjects such as philosophy, sacerdotalism, medicine, practical community and individual counselling, etc. This is done so that the young Mamos become attuned to the Earth and the forces of nature, in order to establish a channel of communication with these forces.
The Mamos have a direct connection to Mother Earth, using the dialogue and 'pagamentos' to balance the natural elements and harmonize the energy on the planet and in the cosmos. They spend their lives doing tireless selfless service in the form of these offerings to the Earth, giving back for all that we take, energetically cleansing the world and praying for all of us.
Arhuaco + Kogi + Wiwa
columbia
Benki has been referred by many as the Dalai Lama of the Amazon, the world's most renowned indigenous leader, he's considered an 'Antaviari' in his culture, which means a direct messenger of God. Healing people since he was 10 years old, Benki championed the rights of his community at the age of 12, from 2005 to 2007 he was also the environmental administrator of Acre, Brazil. In 2007 he created training center Yorenka Antame. Benki rehabilitates drug and alcohol addicted youth by teaching them to work with the land, he has repopulated numerous endangered animal species in the area where he lives, Benki has also helped many indigenous tribes recover their lost cultures. The pajé of the pajés (master shaman), Benki is the one whom all other indigenous people from different tribes, of the area, look to when they have complex cases in need of healing. He won UN's Equator Prize alongside his tribal community Apiwtxa for their remarkable environmental work. Benki has planted over 2 million trees in the past 28 years and created the world's first eco-market which exchanges plastic for food in Amazonian town Marechal Thaumaturgo.
ashaninka, brazil and peru
benki piyãko
Moises Piyãko is the brother of Benki and also a pajé. Together they fight for the protection of indigenous land. They frequently repost invasions and illegal activities which are destroying the Amazon rainforest. They travel the world together speaking and advocating against the destruction of the Amazon. To raise funds for their cause they have designed a fashion collection for Osklen. Their work both spiritual and environmental is extremely important and well respected.
Ashaninka, brazil
Moises Piyãko
Chief Joe David Osage
Born in western Oklahoma, Joe David is full blood Tsitsistsas (Cheyenne). He was raised in the community known as Red Moon, Hammon, Oklahoma. Joe David has lived the traditional Cheyenne life from birth, hearing the stories of many aspects of his peoples travels through time and across the continent. He has participated in the sacrificial rites that give him great responsibility to his people. He was seated as ceremonial chief as well as earning the position of sacred arrow priest.
Ramona Tall Bear
Wife of Joe David, Ramona is also full blood Cheyenne and has been initiated on all rites of passage of her people, she's a sundancer and gifted artist.
cheyenne, united states
chief joe david osage and ramona tall bear
Son of legendary Dogon prophet Neb Naba Lamoussa, IriTah is a teacher, lecturer, spiritual activist, priest and healer of the Dogon bloodline of Meritah. He is the "Head Merr" (Leader) of The Earth Center. IriTah was born and raised among the Tem people in Togo. As a young boy, he entered various initiations and apprenticeships with priests and healers, enduring the rites of passage of becoming a mana group of bloodlines, the keepers of knowledge from the upper echelon of the Pharaonic society. The Dogon culture has remained uninterrupted since the time of the Pharaohs. Nabas specialize in spiritual knowledge including geomancy, astronomy, etc. Their mission is dictated by the Divinities and Ancestors of the shrines they maintain. The Dogon had extensive knowledge about red and white blood cells, atoms, the DNA pattern, Sirius B, C and it's orbit and more hundreds of years before scientists found out about their existence
Dogon , Mali - Africa
Naba IriTah Shenmira
A spirit coming from the vestibule of worship and enlightenment. A Dogon initiate, a Nilotic son, walking and working towards order and balance. He is a Cultural Activist, Researcher, Lecturer. A teacher of philosophy and spirituality of indigenous Dogon and Kemetic culture, preserved in secrecy in Meritah for over 2000 years. WahibPtah is also a Head Merr of the Earth Center in Europe, a Dogon mystery school as it were in the Nile and Niger valley since time in immemorial.
Dogon , Mali - Africa
WahiPtah Fahkara
Ninawa comes from an unbroken lineage of powerful pajés and musicians, he has been on the shamanic path since he was born and has undertaken the highest initiations (dietas) of his tribe, some of which lasted up to a whole year of isolation and fasting in the forest. Considered a rockstar from the forest , he is a gifted musician and captivates people wherever he goes with his charisma and power filled with love and humility.
huni kuin, brazil
Ninawa Pai Da Mata
Chief Raoni Metuktire is a leader and environmentalist. The name Raoni is associated with mystery and the power of the Kayapo people. He is internationally famous as a living symbol of the fight for the preservation of the Amazon rainforest and indigenous culture, declared by French president Jacques Chirac. In 1989, accompanied by singer Sting, the Kayapo leader started his travels to many places around the world.
When Raoni was 15, he started wearing a labret, an ornamental disk which warriors wear on their lower lip when they want to show they are ready to die for their land. The size of the disk is gradually extended to reach its final size after 4 months.
Isolated from the rest of the world until the twentieth century, the indigenous peoples of the Xingu region have fought to orally preserve their traditions for countless generations. Raoni found ways to connect these cultures with the world, while keeping appropriate stoicism, distance and dignity. Although he meets with prominent people in many countries, he lives in a simple hut and owns nothing. The gifts he receives are always redistributed.
In September 2011, Chief Raoni was made an honorary citizen of Paris by Paris mayor Bertrand Delanoë, and received the medal of the French National Assembly from Nicolas Perruchot of France's National Assembly.
Kayapó – Brazil
Chief Raoni Metuktire
One of the last authentic Guatemalan Mayan TZ'UTUJIL. An acclaimed spiritual figure and international ambassador of world peace. He teachings include Mayan culture, cosmology, sacred calendars, and ancient oral Maya wisdom. Tata Pedro is a founder of the Unification of Ancestral Wisdom festival in Tikal, Guatemala, which brings fragmented Mayan descended tribes together to promote the oral traditions, ritual and ancient Mayan culture and to share this wisdom with the world. He recognises the interconnectedness of all people, expanding planetary consciousness, and the urgent need to unify our spiritual, cultural and ethnic wisdom for the benefit of the planet and humanity. He is known for his phrase, "No matter what happens, everything with love!
Maya TZ'UTUJIL - Guatemala
Tata Pedro Cruz
Daughter of Tata Pedro Cruz, she is an Ajq'iij Mayan spiritual guide and healer through the use of tobacco, the temazcal, and massages that clear energy. Marina is also well known as a powerful ceremonial leader, and travels around the world leading Mayan fire and traditional cacao ceremonies. She dedicates herself to 100 Maya Tz'utujil, in the defence of women's rights. She works in the rescue of the mayan languages and was one of the founders of the great council of the indigenous authorities of Guatemala
Maya TZ'UTUJIL - Guatemala
Nana Marina Cruz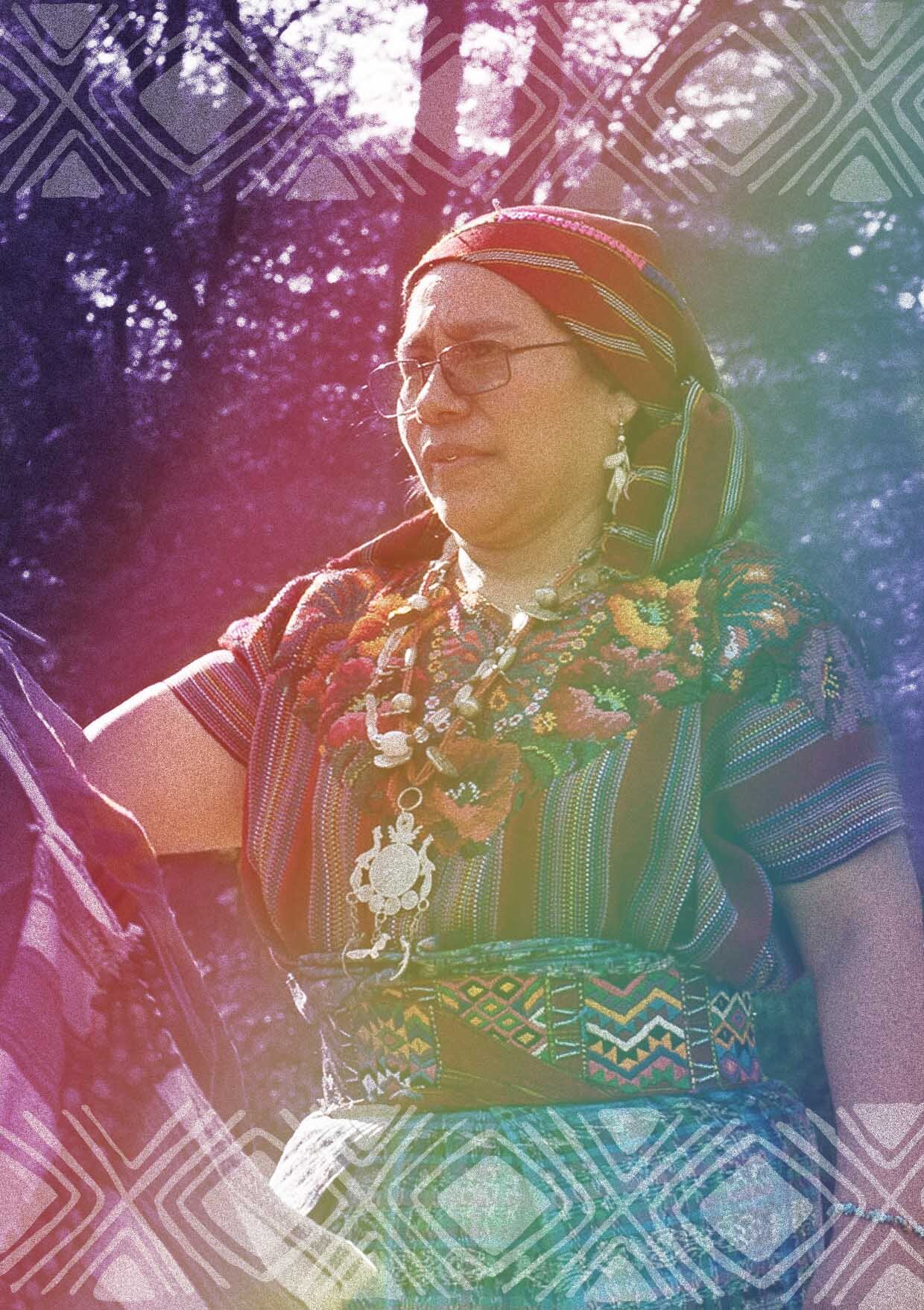 Amalia is a gifted healer, naturopath and renowned spiritual leader and teacher, member of the commission of the sacred sites in Guatemala – COLUSAG, founder of the elder council Iq'B'alm, member of council of elders and political association of mayan women MOLOJ, spiritual assessor of association of women KAKLA.
Nana Amalia works alongside her husband Tata Mario on healing, purification and spiritual balancing ceremonies, Mayan astrology readings amongst other traditional rituals.
Maya Kaqchiquel - Guatemala
Nana Amalia Tum Xinico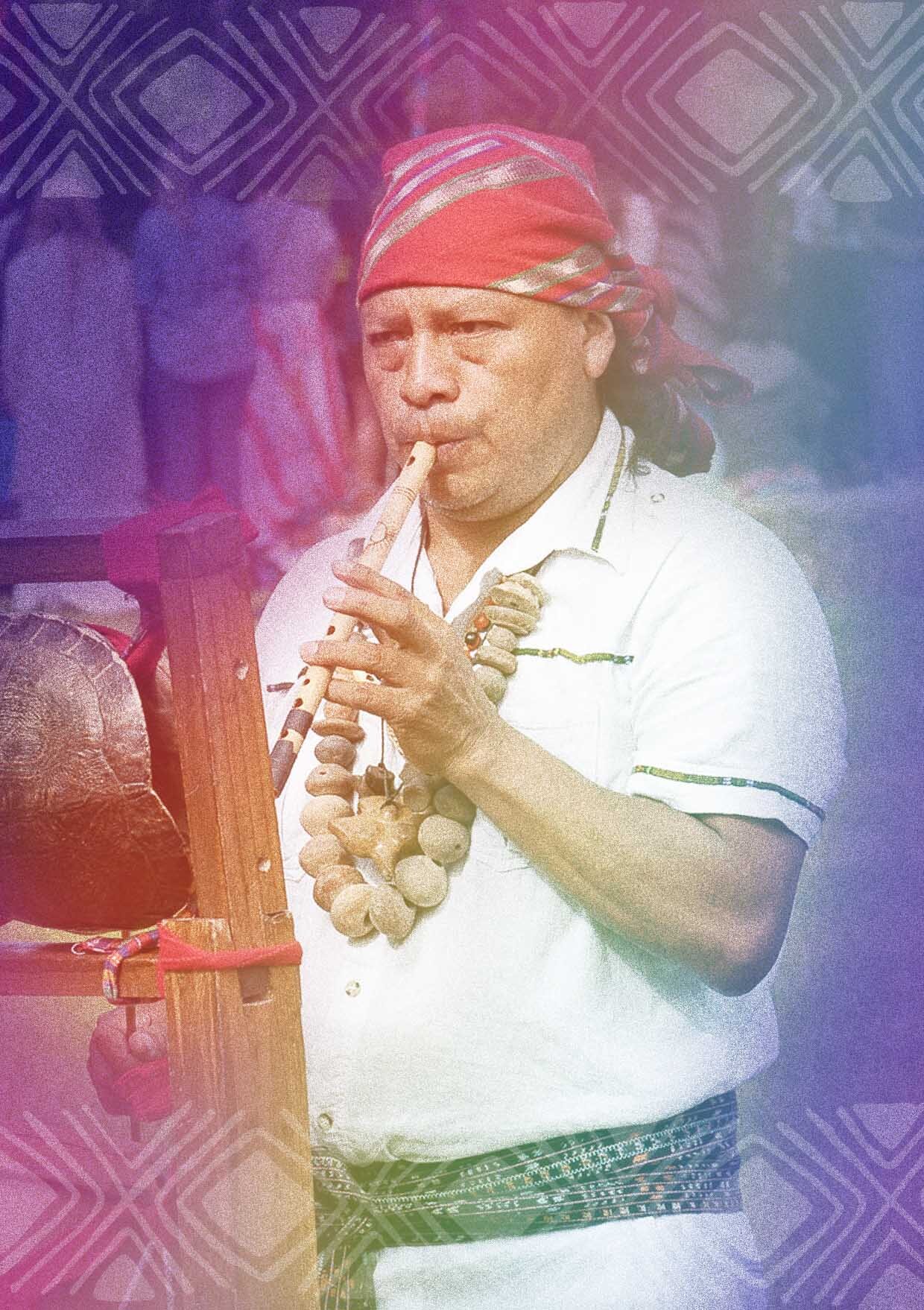 Tata Mario is a renowned spiritual leader, naturopath, painter and talented traditional musician, he plays the marimba, drums, caracol and flute.
Founder of the council of Ajq'ijab'(spiritual guide) Iq' B'alam and Accessor of Indigenous Townhall of Santa Lucia, Utatlan, Solola. He gives conferences about medicinal plants, Maya cosmolog y and history, identity and rights of indigenous people, he's also a primary school teacher. Tata Mario works alongside his wife Nana Amalia on healing, purification and spiritual balancing ceremonies, Mayan astrology readings amongst other traditional rituals.
Maya K'iche - Guatemala
Tata Mario Simon Ovalle Chavez
Spiritual guide and midwife, she works with the sacred fire and tobacco readings. She's been elected as part of the ancestral authorities and is responsible for maintaining the order community in Solola.
maya k'iche, guatamala
Nana Rosalia Zavala
Matua is a Maori Elder (kaumatua) He is a natural counsellor and mentor. He works with various levels of spiritual and emotional guidance and healing.
Matua is also a musician and teaches his own form of open eyes prayer meditation, called " Te Rakau Rangimarie or way of the peace stick. Moving through the 7 elements/guardians of Nature, honouring the Creator and Mother Earth.
Maori - New Zealand
Louis Te Kouorehua Kereopa (Matua)
Kirar Taraishia (Red Star of Hope) belongs to an ancient peace tribe, known as 'Waitaha', first nations from Aotearoa aka New Zealand. She was given this ancient star name by Waitaha Star Grandmothers of The Pleiades Star Council, as well as the sacred role of the Golden Oracle of Light.
Kirar brings the wisdom of the ancient ones of the realms of light in a new way.
Having lived 9yrs on a Sacred Stargate Portal Site; she has
been personally taught by 'Them' (i.e. Councils of Light - The Elohim; White Brotherhood; Pleiades; Star Nations; Galactic Federation;
Ascended Masters; Angels of Atlantis; Lords Thoth and Ramtha; Ancient Wisdom Keepers of the Past, Present & Future; Ancient Star Grandmothers,
Golden Buddah, Golden Dragon, White Whale, Our Stone, Fish, Cloud, Animal, Bird, Trees, Insects and Elemental Families of the Seen and Unseen Realms)
She is also blessed to bring through in the moment; ancient teachings of the Waitaha Ancestress 'Hotu Matua'; who came from Turtle Island, along with the beautiful teachings of Waitaha Grandmother Stars, whom her Ancestors sought as sentinels of the nite sky, to assist in circumnavigating their double hulled canoes; during ancient voyages around the World - with the beautiful Whanau/Family of the cosmos and physical realm here. She is their conduit; to assist in physical and inter dimensional healing.
Under the direction of the Cosmic Grandmother; she also channels through, to whom ever chooses to have - their ancient star name. A resonance/vibration which
aligns us with our life mission/purpose/gifts, star nation, soul, it
also brings us 'Home' - Has been used to Call A Soul back into the Body; from a coma, unconsciousness and awol mental disorder.
Maori - New Zealand
Kirar Taraishia (Red Star of Hope)
Khurelbaatar is a legend in Mongolia, known as the shaman of the shamans. He incorporates an ancestral spirit called Spark, he has 11 kinds of ethnic spirit guardians from the Xiongnu empire. A master of meditation energy and bone setting.
He is the head of council of Mongolian Shamanism as well as the group 'The Destiny of Shaman" . Khurelbaatar is also the president of NGO 'Undes Ugsaa" and president of Tengerleg Mongol association of shamanists of inner and outter Mongolia.
Mongolian
Khurelbaatar Khuramkhaan
Austin is the elected chairman of the San Xavier District, one of eleven political districts of the Tohono O'odham Nation (formerly known as the Papago Tribe of AZ) located in southwest Arizona, USA. He is currently serving his eighth four-year term, having served continually since 1987. Prior to being elected, Austin worked as the Assistant Director for Save the Children's Arizona Indian Nations Office, serving 19 Native American nations in Arizona; he also worked for the Papago Tribe of Arizona's Community Development Program (the tribe changed their name in 1986 to Tohono O'odham Nation, Tohono means desert, and O'odham means people).
Austin is the current chairman for the Indian Land Working Group, an organization dedicated to the restoration and recovery of the native land base; and the control, use, and management of this land base by indigenous communities.
He is also an active member of the Native American Church of Southern AZ, and conducts sweat lodge ceremonies, blessings and prayers for various events and occasions in, and outside his community.
Tohono O'odham - United states
austin nunez
We are happy to host Don Eustolio Rivera De La Cruz and Rosalia Lemus de la Rosa - two Marakames (the one that can dream, heal and sing - master shaman) from the Wixarika culture from Mexico. Don Eustolio started his spiritual initiations at 12 years old and today is a legend in Mexico, he works with an the ancient form of healing which involves sucking disease out of one's body. Rosalia grew up in a cave, naked, until the same age, they both come from unbroken lineages of Marakames, they got married around 65 years ago and have been working together ever since. Living libraries of knowledge with remarkable humility and incredible stories as well as miraculous healing gifts.
Wixarika - Mexico
Don Eustolio Rivera De La Cruz
We are happy to host Don Eustolio Rivera De La Cruz and Rosalia Lemus de la Rosa - two Marakames (the one that can dream, heal and sing - master shaman) from the Wixarika culture from Mexico. Don Eustolio started his spiritual initiations at 12 years old and today is a legend in Mexico, he works with an the ancient form of healing which involves sucking disease out of one's body. Rosalia grew up in a cave, naked, until the same age, they both come from unbroken lineages of Marakames, they got married around 65 years ago and have been working together ever since. Living libraries of knowledge with remarkable humility and incredible stories as well as miraculous healing gifts.
Wixarika - Mexico
Rosalia Lemus de la Rosa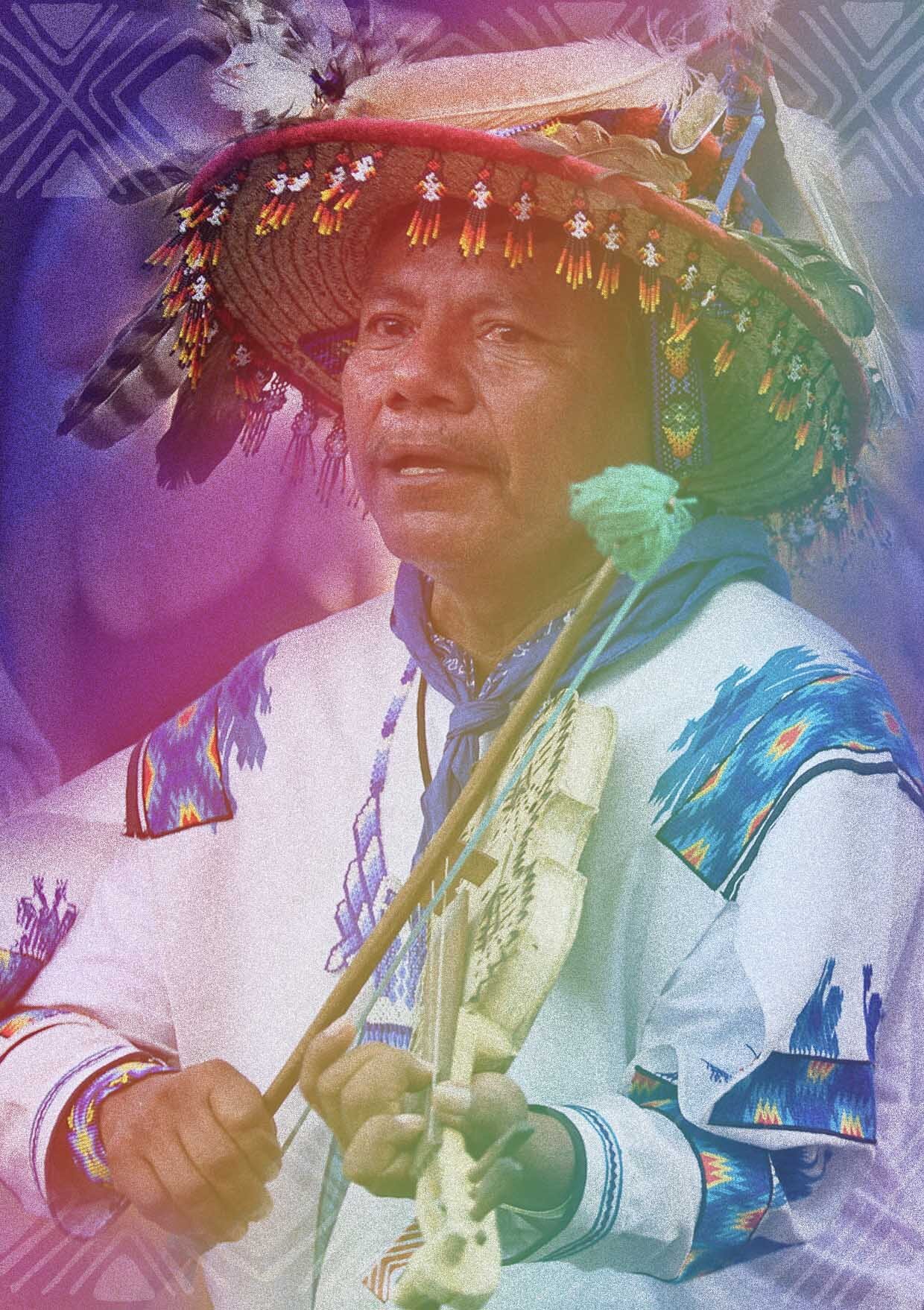 Son of Eustolio and Mama Chaly, Modesto is a spiritual leader and political representative of the state of Nayarit, Mexico. He was born in a Wixarika community in the high mountains of the Sierra Madre Occidental, coming from an unbroken lineage of Marakames he started his studies at an early age under his parents and followed the sacred path throughout his entire life, learning all about the Wixarika cosmology, music and art. Modesto is a gifted musician who has received and written many of the traditional Wixarika chants, his ceremonies are led by the violin and the traditional canari guitar and dance.
Modesto is a traditional storyteller, he wrote and illustrated the book 'When Animals Were People'.
Wixarika - Mexico
Modesto Rivera
Matsini, the Chief of Aldeia Mutum, comes from an unbroken lineage of pajes (master shamans), studying with his teacher and legendary Pajé Tata from childhood til a few years ago when Tata passed away. Matsini became a Pajé around the age of 18 and has been deepening his studies ever since constantly doing diets to strengthen his connection with the Uni (ayahuasca) and the Yawanawa prayers and traditions. His sisters are the first ever female Pajé's of the Yawanawa tribe, Hushahu, Putany, & Waxy, and also study in Mutum. Matsini works year round with groups dieting in Mutum, sharing his prayers and traditions with a few close students, and is focused on NGO work via Floresta Association, a non-profit aiming to create sustainability in Mutum for generations to come
Yawanawa - Brazil
Matsini Yawanawa
Son of Matsini, Kuru is 16 and on his way to becoming a Pajé, following his ancestors footsteps and legacy in Mutum. He grew up studying with his father Matsini since he was a little boy. He studies the Yawanawa traditions and prayers constantly and is an inspiration to his community. His prayers are powerful and very focused, he will become a Pajé in the next couple years, when he's old enough to take the sacred oath. Kuru assists Matsini with all the rapé making, and works in the gardens with all the sacred plants. This is his first time to the United States and he is very excited to travel and help create awareness and share his people's culture.
Yawanawa - Brazil
Tuikuru Yawanawa
Lila is Maestra Ynes's daughter, a legendary Onaya (Shipibo master healer). She was born in Roa Bo Ya. At the age of 13, she was the victim of a serious dano, or damaging energetic attack, which was sent by a jealous neighbor who had wanted to buy a pot for carrying water that was being made for her and had been denied. A tree fell on her right leg and an excruciatingly painful, chronic infection set in that had her bed-ridden for over a year. Her mother, Ynes, started her on a dieta with an extremely powerful tree, catawa. The dieta succeeded in curing her leg, and was the gateway for her path as a curandera to open. Being the rebel that she is, Lila resisted the path on occasion, in favour of leading a 'normal' life, but two children later, the plants persisted in 'calling her back' to work with them. Since then, she has worked with her mother and other extremely respected maestros all over Peru, and is also a specialist in warme ikaros (channelled healing songs). She works with an amazing amount of love and care, and is an absolute joy to have around.
shipibo, peru
Lila Lopez Sanchez
Piero of Jazz Pyebwa, as a technologist and techno-musicologist has developed a unique orchestration of traditional Haitian music for therapeutic application and enjoyment. He hopes to share his method as a major path of study at the first music conservatory in Haiti, an institution that he's creating based on the concepts used in his Harvard thesis. The conservatory will also offer Haitian tradition and Creole language studies.
Piero holds a Master of Arts (ALM) with focuses on digital media arts, and educational design; a graduate citation in Educational Technologies, and a Bachelor of Science (BS) in information systems and management science.
Vodou – Haiti
Piero BoisAubin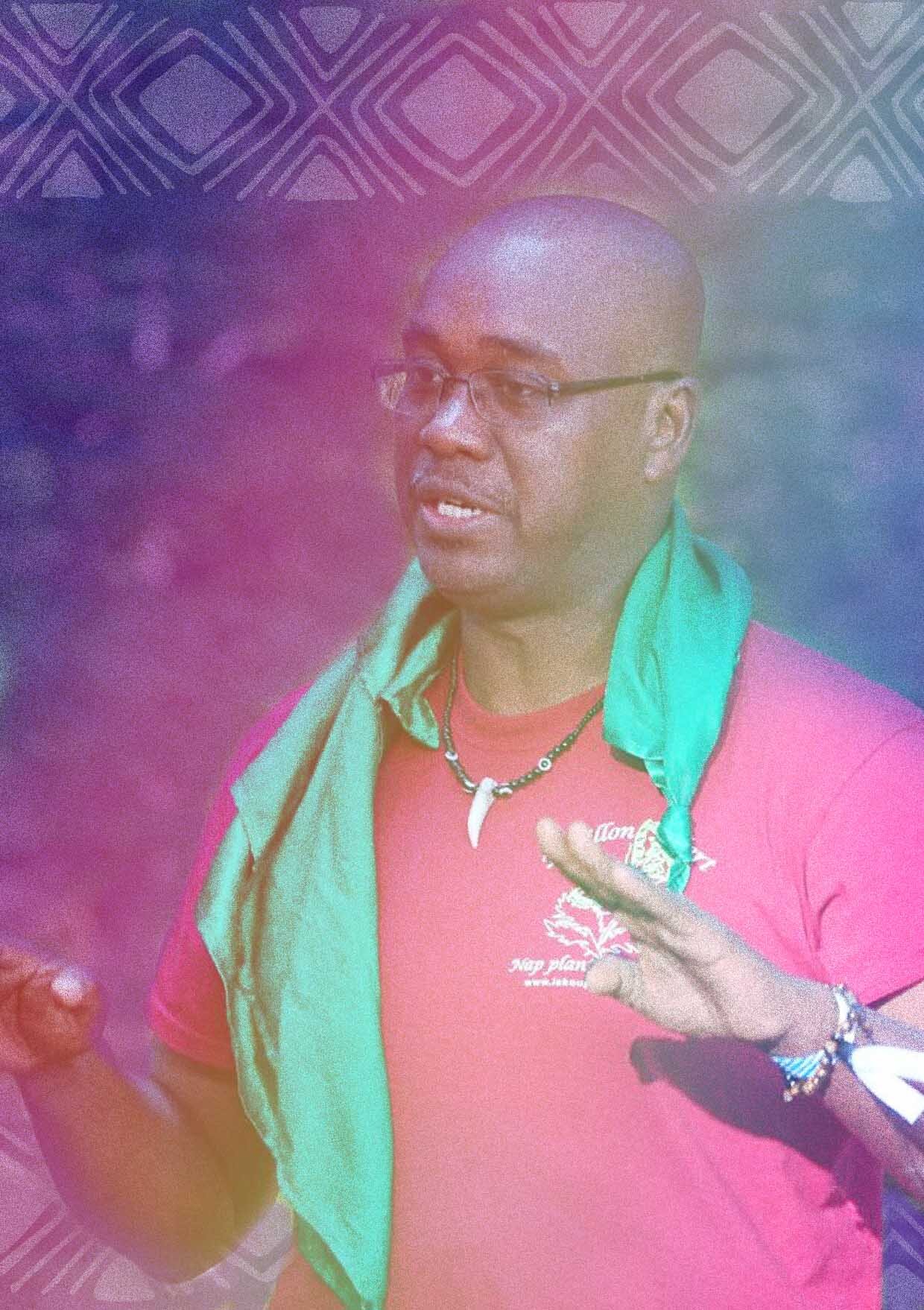 Néité of Lakou Papiyon is a houngan, Vodou Priest or Guardian of the Haitian Vodou Tradition. He blends ancestral wisdom with western training in anthropology and psychology to treat mental illness. He also specializes in healing relationship challenges especially those that involve reuniting with loved ones and/or situations that call for support with legal issues. Neite is certified by the Council for the Accreditation of Counselling and Related Educational Programs (CACREP), and a member of the American Counselling Association (ACA) and the American Mental Health Counsellor Association (AMHCA).
Vodou – Haiti
Néité Décimus
Matzuwa Oscar comes from the Yoreme people of Sinaloa, Mexico. He has been a pilgrim of Wirikuta desert for over 13 years, learning within the Wixarika tradition. He has taken the sacred oath as a marakame (spiritual guide) in Wirikuta as well as different spiritual initiations and vision quests which also granted him the fire to run Inipis (Sweat Lodges). Matzuwa is a traditional singer and musician, a member of the Native American church and also a carrier of the Half Moon Altar. Oscar is also an antropologist specialized on traditional medicine, he wrote his tesis on the traditional and medicinal uses of Peyote. He is a founding member of cultural association Raíces del Corazón de la Tierra, in both Mexico and Catalunya, Spain.
yoreme, mexico
matzuwa oscar